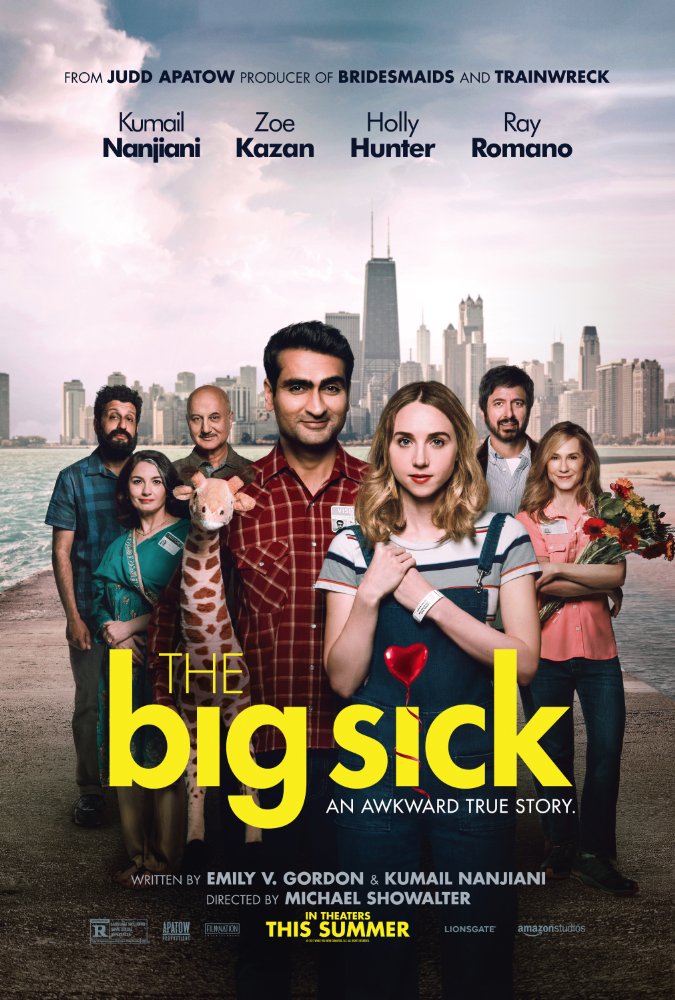 THE BIG SICK
---
Based on the real-life courtship between Kumail Nanjiani and Emily V. Gordon, THE BIG SICK tells the story of Pakistan-born aspiring comedian Kumail (Nanjiani), who connects with grad student Emily (Kazan) after one of his standup sets. However, what they thought would be just a one-night stand blossoms into the real thing, which complicates the life that is expected of Kumail by his traditional Muslim parents. When Emily is beset with a mystery illness, it forces Kumail to navigate the medical crisis with her parents, Beth and Terry (Holly Hunter and Ray Romano) who he's never met, while dealing with the emotional tug-of-war between his family and his heart. THE BIG SICK is directed by Michael Showalter (HELLO MY NAME IS DORIS) and producer by Judd Apatow (TRAINWRECK, THIS IS 40) and Barry Mendel (TRAINWRECK, THE ROYAL TENENBAUMS).
---
Additional Info
COMING SOON – opens Friday, July 14th in our Simchik Cinema! 
Tickets and showtimes available starting Tuesday, July 11th. 
Please note: Start dates might vary or change depending on our current film performance and lineup. Please continue following our website, Facebook page, weekly e-newsletter FLICK FLASH and check in with our staff either in person, by email ([email protected]) or phone (603-224-4600) to get more information about start dates and films.

Red River is the best cinematic experience that my wife and I have ever had – viewing angle, sound, seating, snacks, staff, web site are top shelf, and the movie selections themselves are talked about for days.

My favorite place to see a movie. I always know that whenever I drop in to Red River Theatres, I'll have a great cinematic experience.

Red River Theatres enhances the quality of life in Concord and throughout New Hampshire by offering a continuous selection of the finest and most critically acclaimed movies ranging from independent gems to documentaries to foreign films.

Red River Theatres, Inc.
11 S. Main Street Suite L1-1
Concord, NH 03301

Phone Numbers
Movie Phone: 603.224.4600
Main Office: 603.224.4697

Email Address