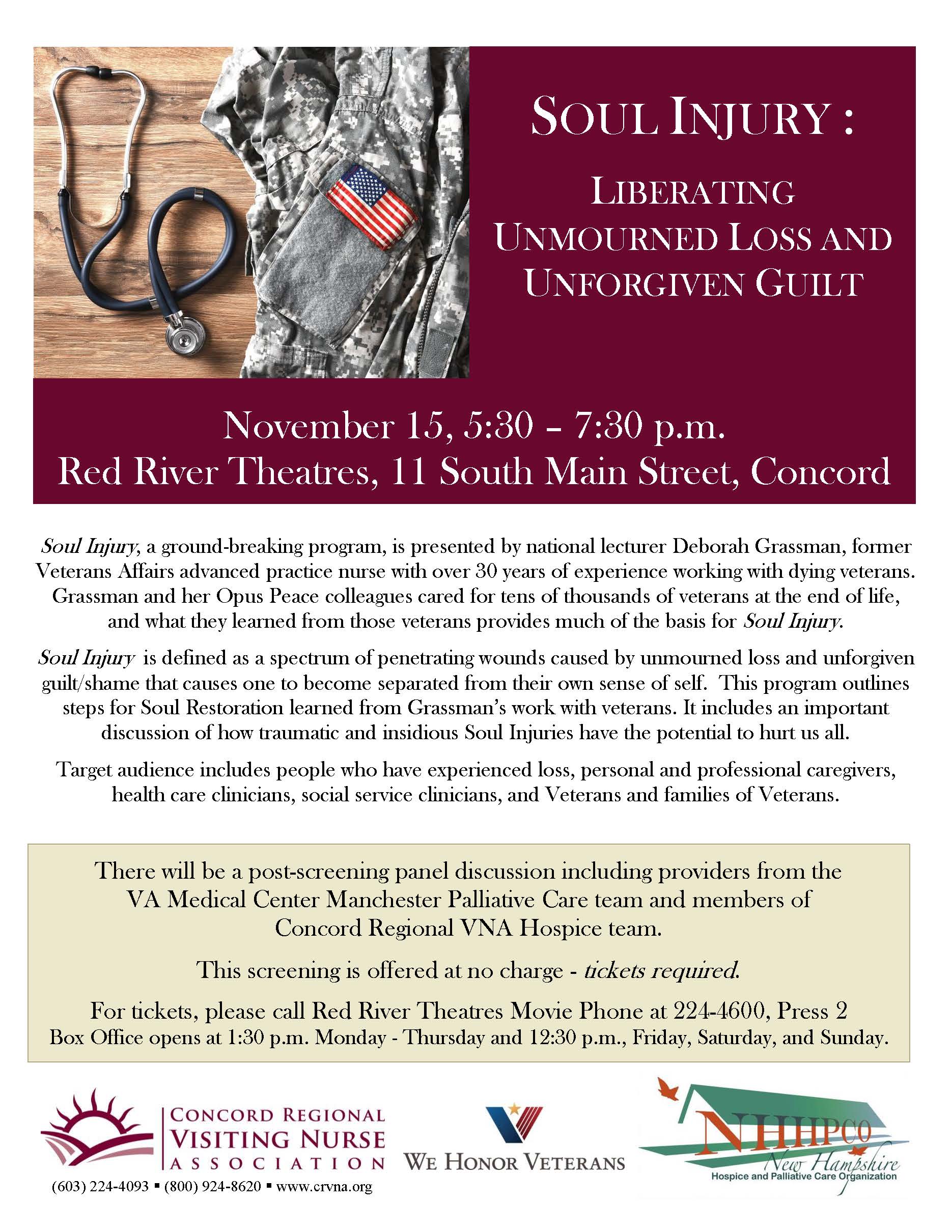 CRVNA PRESENTS: SOUL INJURY
(Not Rated 2017 120 min.)
---
Soul Injury, a ground-breaking program, is presented by national lecturer Deborah Grassman, former Veterans Affairs advanced practice nurse with over 30 years of experience working with dying veterans. Grassman and her Opus Peace colleagues cared for tens of thousands of veterans at the end of life, and what they learned from those veterans provides much of the basis for Soul Injury.

Soul Injury is defined as a spectrum of penetrating wounds caused by unmourned loss and unforgiven guilt/shame that causes one to become separated from their own sense of self. This program outlines steps for Soul Restoration learned from Grassman's work with veterans. It includes an important discussion of how traumatic and insidious Soul Injuries have the potential to hurt us all.

Target audience includes people who have experienced loss, personal and professional caregivers, health care clinicians, social service clinicians, and Veterans and families of Veterans.
Showtimes
Wednesday, November 15, 2017
5:30 PM
---
Ticket Prices
This screening is offered at no charge – tickets required! Register online or over the phone, 603-224-4600 ext. 2!

Red River is the best cinematic experience that my wife and I have ever had – viewing angle, sound, seating, snacks, staff, web site are top shelf, and the movie selections themselves are talked about for days.

My favorite place to see a movie. I always know that whenever I drop in to Red River Theatres, I'll have a great cinematic experience.

Red River Theatres enhances the quality of life in Concord and throughout New Hampshire by offering a continuous selection of the finest and most critically acclaimed movies ranging from independent gems to documentaries to foreign films.

Red River Theatres, Inc.
11 S. Main Street Suite L1-1
Concord, NH 03301

Phone Numbers
Movie Phone: 603.224.4600
Main Office: 603.224.4697

Email Address